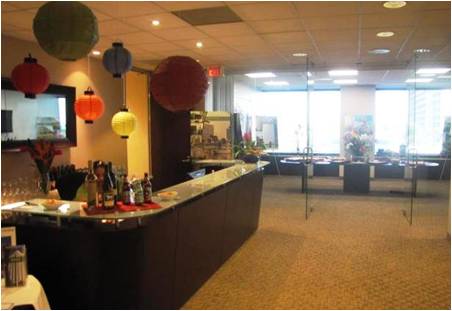 Barrister Executive Suites, Inc. showcased its newly renovated Torrance location with an Open House business mixer last week on October 15, 2009. The firm recently renewed its office lease for the Executive Suites at 21250 Hawthorne Blvd, Suite 500 & 700, Torrance, California.  The event was attended by a variety of business executives and commercial real estate brokers.
While other real estate companies are still experiencing a downturn in the market, Barrister Executive Suites, Inc. location in the South Bay is continuing to thrive. The company first opened the facility in 1996, and provides plug-n-play office space and virtual office programs with flexible terms at economical rates. "We are very committed to serving the business community and to providing top quality service" said Terry Ray, Area Manager.  Since opening the Torrance location in 1996, the client base has diversified from being legal centric to very eclectic; clients include major industries such as entertainment, financial, and technology.  One recent client is the Japanese Defense Ministry which chose the location because they were able to move in immediately, with a flexible lease term at a favorable lease rate. "Once they move-in, many clients are still surprised by how much they truly get for their money, and what an advantage it gives them," said Terry Ray "we even have a bi-lingual receptionist that speaks Japanese."
Dorthy Bright, President of Barrister Executive Suites, Inc. predicts the increased demand for executive suites will continue regardless of the economy. "Our business model allows companies more access to cash flow.  In lieu of investing in administrative staff, a phone system and photocopiers, they will see that Barrister provides all of the above.  This allows companies to focus on their growth strategy and capital investment.  Regardless of the economic environment, Barrister should always be the first alternative in leasing office space.  It's just good business practice."  The Open House event provided an excellent opportunity to preview the location and enjoy some business networking.   To find out more about Barrister Executive Suites, Inc. location in Torrance, Click Here.