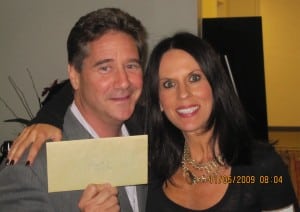 Barrister Executive Suites Inc. showed the real estate community what it means to "Go Greek" at an open house hosted at their Century City location on Thursday, Nov. 5.
The Greek-themed networking event attracted many top commercial real estate professionals, Chamber of Commerce members and other local business professionals. While the music played and food was enjoyed by all, the open house was a great opportunity for attendees to take a tour of the Century City office space and see what the executive suite has to offer any business professional.
Guests were eager to discuss current market conditions and leasing trends, and learn just how easy it is to partner with Barrister Executives Suites, Inc.
"[We] showed brokers what they can offer their clients with hardly any effort. They just refer the client to us – we close the deal – they get the commission," said Jacqui White, Assistant Vice President. "And the special features we include really helps their clients achieve a much greater return on their office rent."
Brian Luft, NAI Capital was one of the evening's lucky raffle prize winners.
The Century City Executive Suite offers a full-service office atmosphere, without the added costs. With two full floors of occupied space at the Century Park Plaza building, many experienced attorneys have found a permanent business home at the executive suite. The Century City location boasts a floor-to-ceiling window line with spectacular views of the famous L.A. Country Club, and convenient pedestrian bridge connecting it to the Westfield Century City Shopping Center, for world class shopping and entertainment.
To learn more about the Barrister Executive Suites, Inc. location in Century City, Click Here.