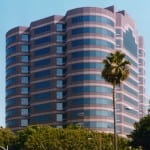 BARRISTER RENEWS ITS MASTER LEASE IN BURBANK.
Barrister Executive Suites, Inc. celebrates 12 years of longevity in the Burbank Market, and recently renewed its lease there at 3500 West Olive Avenue.
Suite Manager Toni Hernandez is excited for Barrister's continued presence in the Burbank office market. For over 10 years, she has been striving to meet all of her tenants needs. During her tenure, she has worked with a myriad of long-term and major tenants such as NBC and Warner Bros. Hernandez is an integral component in the suite's continued success as the   preeminent executive suite in the region.
"When tenants stay with us for a long time, it's a testimonial to the exceptional service we provide. We are like one big, happy family here," Hernandez described.
The Burbank executive suite is located in the heart of the Media District, which attracts many entertainment professionals, as well as technology firms, financial advisors and attorneys. Directly adjacent to the Warner Bros. studio lot, this full-service executive suite is in the same building as McCormick & Schmicks restaurant, and conveniently located within three miles of the Burbank airport.
To learn more about Barrister Executive Suites, Inc. location in Burbank, Click Here