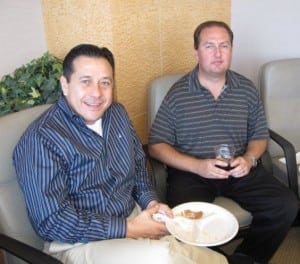 By all appearances, the recent office appreciation lunch we hosted in San Diego was taking place at a large, downtown law firm.  With attorneys comprising 75 percent of our tenant base, our 525 B Street office in the Golden Eagle Plaza–which coincidentally, previously housed a law firm–has the culture of a firm, including the seamless support of our administrative staff and back office resources.
In addition to us showing our appreciation and checking in with our new and long-term tenants, this was an opportunity for them to do a little networking and renew acquaintances.
Barrister's Suite Manager for San Diego, Amy Hicks sees first hand the synergy that has evolved amongst the attorneys at her office. 
"They are always exchanging ideas, discussing current case law, and referring cases back and forth.  It's an invaluable resource for them to have like-minded contemporaries to rely on to cover a court appearance when on vacation, or file a pleading in an emergency. There are even occasions when attorneys share secretarial and paralegal support."
Richard Norton is a principal at NORTON MOORE & ADAMS, LLP, a firm that handles civil cases.  He has been with us since our inception at the building in 2003.
"I have been here since Barrister started in this building and intend to continue my tenancy into the future," Norton said.
For more information on Barrister's 525 B Street office or to schedule a tour, please click here