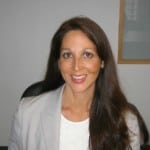 Barrister prides itself in providing the necessary tools to build a solid foundation that enables our tenants and employees to achieve success.
This philosophy extends out beyond our 21 locations and into the communities we serve throughout Southern California.  Barrister employees receive encouragement and support from within the organization to give back and empower one's self through ongoing learning.
Recently, Barrister President Dorthy Bright visited the Variety Boys & Girls Club of Los Angeles and shared with girls ages 11 through 16 about her personal philosophy for career success.
Bright joined with other guest speakers from REAL Women, a networking organization for upper-level women in commercial real estate, in sharing with our future women leaders on the importance of an education and the foundation it serves as in achieving one's dreams.
"A successful future starts with getting an education," Bright told the enthusiastic and young listeners.
 Bright and the group also shared their insights and secrets on developing a successful resume and cover letter, and effective interviewing skills.
The Variety Boys and Girls Club has a 50-year tradition of providing worthwhile and meaningful activities and programs to the children and youth of our community.  They provide services to any child who wants, and/or needs them.  There are no geographical limitations to its memberships, although most of its members come from areas surrounding the Club.