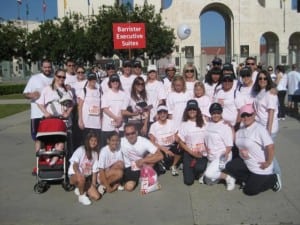 Smashing its fundraising goal of $5000 for the 2010 Revlon Run/Walk for Women, team Barrister raised $7500 thanks to the generous contributions of family, friends and colleagues. 
Team Barrister's contribution will go towards supporting cutting-edge women's cancers research, helping provide diagnostic treatment services for medically under-served women, and delivering psycho-social services and financial support to women with cancer and their families.
The sun was out in full blaze last Saturday morning as a Barrister team of 40 united to cover the 3.1 mile route and cross the finish line before Noon, receiving medals once they entered the Los Angeles Coliseum.
Team Captain, Jacqueline White commented on the tens of thousands that participated in the 17th annual event.
"There are so many people out there battling cancer right now and they really need all of this support," White said. "Hopefully, the money raised can help end cancer completely."
Congratulations to our outstanding team and supporters. We look forward to participating in more charity events in the future.