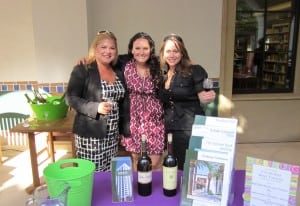 Barrister was presented with a great opportunity to interact with local businesses and entrepreneurs when we sponsored a table at the 15th Annual Calabasas Wine Tasting & Silent Auction.  The event, hosted by the Calabasas Chamber of Commerce, featured a myriad of attendees from the local business scene.
Barrister's table was a popular choice as groups stopped by to sample a variety of wine from Cakebread Cellars. As the saying goes, "Where wine flows, people will go," and that was certainly true, as our bottles emptied quickly.
Sales and Marketing Manager Derek Otte said the networking event was a good chance to discuss the advantages of leasing space with an executive suite and Barrister's different properties within the area.
"We were able to tell numerous attendees about Barrister's full-service spaces, flexible lease terms and outstanding staff," Otte adds.
Barrister thanks the Chamber for inviting us to such a fun event and appreciates everyone who stopped by our table.