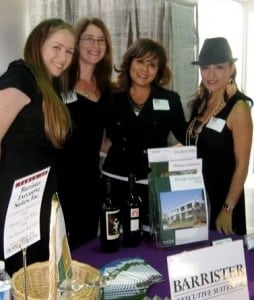 Barrister was presented with another great opportunity to interact with the local business community when we sponsored a table at the Fine Wine & Food Festival sponsored by the Woodland Hills/Tarzana Chamber of Commerce.
Our staffers, Kerri Linda Morales, Sharon Northrup, and Pauline Steinberg, educated attendees about the advantages in leasing an executive suite with Barrister.
"It's always great, particularly in this business climate, to talk about Barrister's foundation of longevity and financial stability," Morales said.