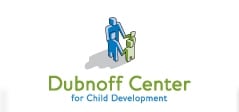 Barrister's commitment to service begins with our tenants and extends out into our communities.
This was evidenced by our volunteering on behalf of the Dubnoff Center for Child Development at its 8th Annual Golf Tournament.  Barrister staff assisted throughout the day at the highly successful golf tournament, auction, and dinner. 
Hundreds of golfers and supporters from the business community, major league baseball and Hollywood came together at the Mountain Gate Country Club in Los Angeles to support the non profit that is battling against a significant decline in funding.
The revenue generated from the golf tournament is crucial to maintaining the center's annual operating budget and all the programs it provides to school, mental health, vocational, and residential programs.  Since its inception, thousands of one-time, at-risk youth have gone on to live happy and productive lives as a result the help they received at Dubnoff.
The event was hosted by Reggie Smith, a major league All Star and member of the 1981 World Series Champion Dodgers.  Also on hand were Cy Young winner, Bret Saberhagen; the son of President Ronald Reagan and radio personality, Michael Reagan, and Academy Award nominee for Jackie Brown, Robert Forstor.
Barrister volunteers included Assistant Vice President Jacqui White, Sales and Marketing Manager Derek Otte, and Suite Managers Gerri Wulff and Airley Ogilvie. 
It's great to be part of an organization that encourages us to support our community," White says. "It was great to be a part of such meaningful event."