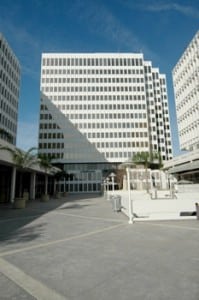 Barrister's Pasadena Center ends 2010 with a bang!  Barrister is honored to receive Officebroker.com's Business Center of the Month Award for December 2010.
Barrister Executive Suite Inc.'s location in Pasadena at the Corporate Center Pasadena building offers stunning views of the San Gabriel Mountains and holds a LEED Gold Certificate (certificate to buildings with high levels of sustainability and a low carbon footprint).  Since opening in 1995, the Corporate Center Pasadena has been the ideal solution for business professionals looking for flexible lease terms or virtual offices.
The on-site management team in Pasadena has been described as "wonderful" and "warm and welcoming" by current tenants.  It is no surprise that the team has such great reviews from tenants when the each member has been with Barrister for at least 3 years.  The low turnover rate brings a level of professionalism to the suite which the tenants directly benefit from.
Corporate Center Pasadena is excited that they are achieving their mission to always provide exceptional service.  The on-site management team provides an environment that tenants are excited to come to every morning for work.  Mail is delivered daily to each tenant's office and every Friday, Barrister provides bagels and donuts for the tenants.
Corporate Center Pasadena is "an excellent place to work and play," comments Carrie Gates, Vice President – Leasing & Marketing at Barrister Executive Suites. "Here tenants have everything they need – they can conduct business, eat lunch, work out, get their car washed, do their banking, and get their clothes cleaned without even having to cross the street."
It is not only a fun work place, but it also gives tenants an edge over other professionals in their field.  As a tenant at Corporate Center Pasadena, membership to the South Lake Business Association is free and tenants are involved in regular social networking events held by Barrister.  The social networking events give tenants a chance to get to know each other and generate new business within the suite.
Officebroker.com recognizes Pasadena's excellent team with the Business Center of the Month Award.  Vice President Billy Knauss acknowledges Pasadena's "top level service to [prospective tenants.]"  Knauss refers to the Pasadena center as "one of the best in the area."