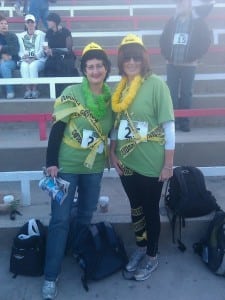 Barrister's Leasing Manager Deborah Davidson has an amazing experience to share around the water cooler with tenants and colleagues.
Davidson recently participated in "The Amazing Race to Serve" on January 29th. The day-long event is organized by San Diego's North Coast Church, and is based on the popular television show, "The Amazing Race."
Described by organizers as a fun and interactive scavenger hunt on steroids, 240 two-person teams raced a 10-mile scavenger hunt from the Oceanside Pier to the North Coast Church Vista Campus. 
The event generated over $28,000 in support of the church's upcoming "Weekend of Service" in May, a project to help North County residents.
"It was a great way to feel more involved in the San Diego community and to help raise funds for a great cause," says Davidson. 
Davidson and her partner completed the race and answered all clues in an impressive time of 4.5 hours. 
Barrister Executive Suites, Inc. has three locations in the San Diego area: Mission Valley, Downtown San Diego, and Del Mar.