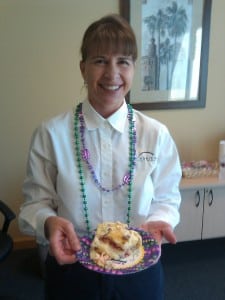 This week the tenants and staff at Barrister Executive Suites, Inc.'s Del Mar location celebrated Mardi Gras with a fun networking mixer themed "Sinful Desserts." Barrister supplied a decorated cake complete with a small, hidden trinket inside, similar to that of a King's Cake. The conference room was turned into a west coast version of Mardi Gras, complete with decorations and beads. Tenants and Barrister staff brought their favorite treats for everyone to indulge in, while they mingled amongst one another. 
Dr. Tammy Mondry with New Horizons Physical Therapy, who is also an original tenant of the suite, was the lucky winner of an Amazon.com gift card when she found the concealed trinket in her slice of the cake.
Thank you to everyone who participated.  Barrister looks forward to more events in the future!