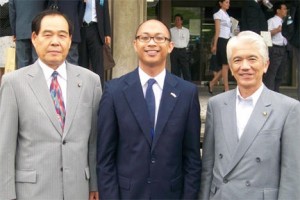 Barrister would like to congratulate Pasadena tenant, Jed Leano, for his two recent awards from the Filipino Migrant Center!  At the inaugural awards banquet on May 14th, Mr. Leano was one of three to receive this year's Distinguished Service Award. 
In addition to being given the award from the FMC, Mr. Leano received an official Certificate of Recognition award from the California State Assembly and California State Senate by State Assemblyman Mike Eng, who was in attendance and served as the keynote speaker. Other recipients of the FMC and CA state legislature awards were Chief Loa Faletogo, President of the Samoan Federation of America, and the Rosewood United Methodist Church Advocacy Group.
The Filipino Migrant Center's vision states, "We will work for an empowered Filipino community actively engaged in the movement for local and global justice."                 The Filipino Migrant Center is located in California which has the biggest concentration of Filipinos in the United States.  Mr. Leano has successfully fought for refugees seeking protection from torture and defended numerous victims of religious persecution and victims of domestic violence in deportation proceedings before the United States Immigration Court.
Since October 2008, Mr. Leano has been a solo practice immigration attorney practicing exclusively in federal immigration law.  Mr. Leano represents clients from every continent in the world in all areas of immigration law.  He is a founding board member of the CAL PAC Neighborhood Immigration Clinic, a pro bono immigration law clinic held monthly at Methodist churches throughout Southern California, a former president of the Pasadena Junior Chamber of Commerce, and a member of the Pasadena Tournament of Roses.
Congratulations Jed Leano!
For more information on Mr. Leano, visit http://jedleano.com/index.php.