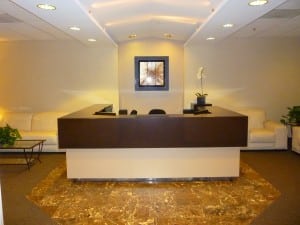 Barrister Executive Suites, Inc. is pleased to present Mission Valley's recently remodeled suite in San Diego.  The reception area and hallways throughout the suite have been updated with new furniture, wall covering, and reception desk.  Both tenants and clients have been very pleased with the suite's contemporary look.
To celebrate, Barrister will be hosting an Open House that will include lunch to local real estate brokers with a raffle and a chance to win an iPad2.  Brokers will have the opportunity to tour the suite and reconnect with tenants they referred to Barrister.  After touring the suite, brokers will continue their confidence in referring clients to Barrister with complete confidence, knowing that at Barrister their clients will be viewing space with beautiful common areas and excellent services. 
Brokers frequently refer their clients to Barrister for short or long term space as they wait for their new office to be built out or if their client needs to downsize to smaller space.  Many prospective tenants call commercial brokers looking for the flexibility and amenities that only an executive suite can provide.  Barrister has worked with a  large number of startup companies who need a few offices on a short term lease, but eventually grow their company and staff to the point where they need their own floor or ultimately their own building. 
"We have received so much positive feedback on the new look of the reception and common areas," says Area Manager Michelle Bailey.  "The updated look gives an even better first impression to our clients business." 
 Barrister's Mission Valley location is located in the Hazard Center Office Tower at 7676 Hazard Center Drive, on the 5th Floor in the heart of Hazard Center.   Tenants have convenient access to all the surrounding amenities Hazard Center has to offer such as banking, dry cleaning, fitness, restaurants, medical offices, spa facilities, movie theaters, auto detailing, and hotel accommodations.  Barrister welcomes you to visit soon.