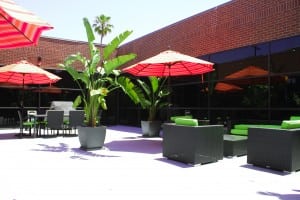 Barrister Executive Suite, Inc. has another reason to celebrate.  After opening their newest location on May 1, 2011, prospective tenants have been drawn to The Marina Beach Offices at 475 Washington Blvd. in Marina del Rey's Silver Triangle.  The spectacular new suite offers a creative and modern professional environment with natural light, a beautiful furnished atrium and an open space plan.  It is walking distance to Marina del Rey, and the world famous Venice canals and beach.  There are many restaurants and coffee shops to choose from within walking distance of the suite.   
Marina del Rey has always been a successful area for Barrister, with another suite just minutes away at 4640 Admiralty Way.  The Admiralty Way location is in high demand and has maintained full occupancy for more than twelve months.  Now, prospective tenants have another Marina del Rey option.  Barrister anticipated a strong response to 475 Washington Blvd., and they have not been disappointed.    
Marina Beach Offices offer the same first-class services to all tenants.  With their private office, tenants have 24/7 access to the full suite which has two furnished conference rooms, a copy room, kitchen and outdoor atrium.  During business hours of 8:30 am – 5:00 pm, Monday through Friday, Barrister's receptionist greets clients, answers and screens all incoming calls for tenants, handles incoming and outgoing mail, as well as any deliveries.  With the option to have a furnished office, tenants have turn-key office space with flexible lease terms.  This location also offers Barrister's popular Virtual Office Packages. 
 "We have had great success at 475 Washington Blvd. and continue to see new interest every day.  It is a unique location and it really caters to many professionals' needs when seeking office space," says Terry Ray, Area Manager.  "Although we offer month-to-month agreements, tenants are beginning to ask for longer term leases because they love the space and want to secure it.  We are thrilled."
With close proximity to the 90 freeway and major cross streets, it is a convenient location for everyone.  The Marina Beach Offices at 475 Washington Blvd. is also an ideal location for frequent flyers, as it is only 5 miles from LAX.  Barrister welcomes everyone to come by for a tour.
On Thursday, June 23, 2011 Barrister will be hosting a Sunset Party at 475 Washington Blvd., inviting business professionals and Commercial/Residential Real Estate brokers in the LA area for drinks, food, and a cash drawing.  475 Washington Blvd. is a great location to host a summer party, and Barrister is looking forward to showing off their newest gem.