A good time was had by all as Barrister Executive Suites, Inc. celebrated the opening of their newest location, The Marina Beach Offices at 475 Washington Blvd. with a summer sunset party.  Commercial and Residential Real Estate brokers and local business professionals were in attendance, and everyone enjoyed the fun filled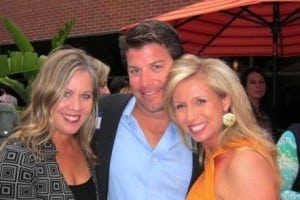 e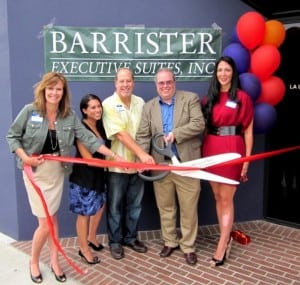 vening full of great food, drinks, and great conversation.
The innovative space provides a creative and energizing work environment. "It's a place where you're excited about coming to work and look forward to being in the office," said Carrie Gates, Vice President of Sales. "The local community has been very receptive and sees the benefit of being in a thriving environment that also gives more work/ life balance simply by working here."  The walk up building offers some great features that make it highly attractive to professionals who live in the area. The bike rack and easy parking access make it a fun commute. "We walked here from our home in the Venice Canals area," said Todd Nealey, Farm Boy Productions. The Suite also features a beautiful furnished outdoor atrium area, lots of natural light, and an open space plan with a wide range of office options for any type of worker.  It is walking distance to Marina del Rey's restaurants and coffee shops, and the world famous Venice canals and beach.
Brokers immediately envisioned space for their clients wanting to lower their overhead and increase their efficiency.  They were also excited about the lucrative commission structure and leasing incentives. 
"Everyone was excited about the raffle drawing" said Terry Rey, Area Manager "Prizes included a $250 cash drawing and gift certificates to several local restaurants." Congratulations to our winners Donna Lopez with Marriott, Marty Rosen with RE/MAX, and Brian Luft with NAI Capital, and Reiko Tamura, a current Barrister tenant in Torrance!" 
For more information, or to refer a client, to Barrister's newest location, The Marina Beach Offices at 475 Washington Blvd., Marina del Rey, CA 90292, please contact Barrister at 800-576-0744.  Brokers call direct:  1-855-COMMISH (1-855-266-6474).
Click here to see more pictures.