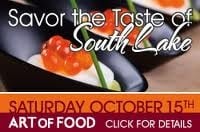 On Saturday, October 15th come out to Pasadena for a day filled with food, music, and fun!  Local restaurants and businesses are participating for a full day to "Celebrate the Art of Food."  The free outdoor festival will be held at the Corporate Center Pasadena located at 251 S. Lake Avenue, just a couple doors down from Barrister Executive Suites, Inc.'s offices at 225 South Lake Avenue. 
Throughout the day, there will be food demonstrations and tastings from popular restaurants on South Lake Avenue.  There is sure to be something for everyone from local vendors to international restaurant chains.  Guests will also enjoy live performances from three local bands with music ranging from folk to swing and funk. 
"South Lake Avenue and the surrounding area in Pasadena is a hub of many restaurants and businesses.  I love coming to work every day at the Corporate Center Pasadena with various dining and services at my fingertips.  I can't wait for the Taste of South Lake to meet local businesses and try restaurants that my tenants are always talking about," says Toni Hernandez, Barrister's Suite Manager.