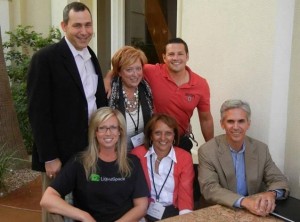 Barrister Executive Suites, Inc. travelled to Las Vegas for the 25th Annual OBCAI Education Conference & Trade Show and came back with useful tips, insightful case studies, and new relationships with other businesses in the industry. The conference's tag line puts it perfectly: "the conference happens in Vegas; the knowledge doesn't stay in Vegas."
              Barrister attendees included Dorthy Bright, President; Margaret Gunning, Executive Vice President & General Manager; and Carrie Gates, Vice President of Leasing & Marketing and past 2009 OBCAI president. Veterans to the conference, the Barrister team were excited to see familiar faces from the internet broker community and other service providers.
           Each day of the conference was packed with networking, educational seminars, and fun. Speakers included CEO of Zappos, Director of CB Richard Ellis, and Director, SMB Customer and Solution Partner Marketing of Microsoft Corporation.
            "I think Conference is a great opportunity because it gives us ideas on developing new products and services that will add value to our customers business, and ensures that we are using best practices," says Carrie Gates, Vice President of Leasing & Marketing and past 2009 OBCAI President. "The various speakers and sessions are very educational. I always enjoy networking with vendors, trade suppliers, and industry peers and colleagues. It's a great time, and we always come home with new and fresh ideas every year!"