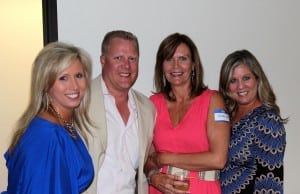 Barrister Executive Suites, Inc. celebrated the opening of their newest location, 11620 Wilshire Boulevard, over Spanish style tapas and drinks. The new location is conveniently located one block west of the 405 freeway, on the corner of Wilshire and Barry.  Barrister Executive Suites, Inc. occupies the entire 9th floor which offers sweeping 360° views from Downtown LA to the Pacific Coast.
Barrister has upgraded the facility and expanded the scope of services to give the tenants a competitive edge for their business and provide an enjoyable working environment.  The Executive Suites features three conference rooms with an online reservation system, enterprise-grade high speed internet access, and telephone service and equipment.  Tenants enjoy the excellent amenities throughout the suite with the flexibility of interior or floor to ceiling window offices with views of Los Angeles.  The kitchen and reception area are contemporary and offer complimentary beverage service to tenants and their clients.  The reception staff at Barrister has been well trained to answer all incoming calls, greet clients and assist tenants with their day to day business needs.
The event was attended by business professionals and Brokers including firms such as CBRE, Cresa, NAI Capital, Stone Miller, ReMax, Mohr Partners, Instant Offices, Bailes & Associates, and Hughes Marino.  Barrister ended the fun evening over cake pops and a raffle drawing in the newly renovated conference room.  Prizes included gift certificates to local restaurants and the newest iPad. "Thank you to all who attended! We are very pleased with our leasing success thus , and appreciate the support we've received from the brokerage community!" – Said Carrie Gates, Vice President of Leasing & Marketing.
For more information, or to refer a client, to Barrister's newest location, 11620 Wilshire Boulevard, 9th Floor, Los Angeles, CA 90025, please call 1-800-576-0744 or email leasing@barrister-suites.com