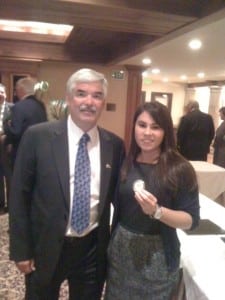 Barrister Executive Suites, Inc. extends congratulations to our own Ashley Hutchins, Manager of Barrister's Westlake Village property.  Ashley was presented with a memento award by the Rotary Club of Thousand Oaks, the Rotary Club of Westlake Village, the Westlake Village Sunrise Rotary Club, the Thousand Oaks Sunrise Rotary Club and the Conejo Valley Rotary Club.  This was the first annual community awards dinner, over 146 were in attendance.  
Ashley Hutchins was recognized for the generous support she provided to the Westlake Village and Thousand Oaks Rotary Clubs by making the Westlake Village Barrister Suite's large conference room available to them so that their Rotary Special Projects Committee could conduct its monthly meetings to plan and manage four large community service events that the Rotary Clubs held in the Westlake Village and Thousand Oaks Communities during this past Rotary year. She also assisted the Rotary Clubs' committee by having her staff beautifully decorate the Westlake Village large conference room before each committee meeting and by having them also assist with the purchase of food, snacks, and beverages that were served at the committee meetings.
Ms. Hutchins was honored at the dinner along with Jacqui Irwin, the Mayor of Thousand Oaks, Philippa Klessig, the Mayor Pro Tem of Westlake Village, the Oaks Mall, Terry Moehler of the Moehler Group, the Conejo Free Clinic, the Westminister Free Clinic, as well as the Rotary Clubs' presidents and the members of the Rotary Special Projects committee.  
 "Ashley Hutchins and Barrister Executive Suites should be commended for their assistance to our Thousand Oaks and Westlake Village Rotary Clubs. The Rotary Clubs started out with a committee of ten members that grew to almost one hundred members that worked on all aspects of the four large Rotary community projects. It was essential that the committee members have a suitable and large enough place to meet. The help provided by Ashley and Barrister Executive Suites in providing their beautifully decorated large conference room for those monthly committee meetings and as well as helping to set it up before each meeting is greatly appreciated by all of the Rotary Clubs. They both exemplify the Rotary motto of service above self and generosity for their community that all businesses in our community should emulate." said Michael C. Murphy, Esq. a tenant with the Westlake Barrister's Office Suite and coordinator of the Rotary Special Projects Committee.
To learn more about Barrister in Westlake Village, Please visit http://www.barrister-suites.com/Westlakevillage.php?id=