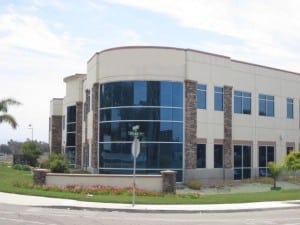 Barrister Executive Suites, Inc. is pleased to announce the August 1, 2012 grand opening of executive offices in Ventura. 
The Ventura Executive Suite is located at 1500 Palma Drive, Ventura, CA 93003 with immediate access to the 101 Freeway, off of Valentine Road.  This 2 story building is adjacent to Prime Ventura retail locations such as Ventura Gateway, Main Street Retail and Poinsettia Plaza which offers a wide variety of restaurants and quality retailers such as Starbucks, Barnes & Noble, Office Depot, and Fed Ex. 
Barrister Executive Suites, Inc. will manage the entire 2nd floor, providing furnished and unfurnished offices for rent, equipped with conference rooms, enterprise grade internet access, copy center, and employee break-room with free beverage and coffee service.  The spacious lobby, outdoor balcony, and natural lighting combine to make it an innovative and inspiring work environment for any type of business.
Barrister will offer flexible lease terms including options for full time, part time, and virtual office programs.  "Our virtual office programs provide all the benefits of a physical office at a fraction of the cost," said Dorthy Bright, President. "Tenants in Ventura demand more from their office than just empty box space. We've been delivering what they seek for over 40+ years. We look forward to serving the Ventura community." Ventura County is located along Southern California's high-tech corridor near the deep-water port of Port Hueneme. The well-educated workforce and excellent public services make Ventura a terrific place to start or continue running a business. 
Please visit our newest location's website at http://www.barrister-suites.com/ventura.php?id=