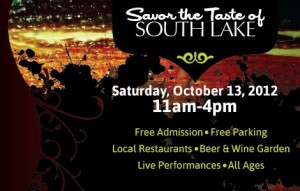 This Saturday, October 13th from 11:00-4:00, The South Lake Business Association is hosting "Taste of South Lake" in Pasadena. Guests can enjoy a variety of food from the restaurants in the South Lake Avenue business district, prizes, live cooking demos, a beer and wine garden, and live music performances.  The event is taking place at 225 South Lake Street, right in the courtyard area of Barrister Executive Suites, Inc.'s Pasadena location. 
There will be over $3,000 in raffle prizes – including one donated by Barrister!    
This event is sure to be a blast.  Come enjoy this variety of tastes and sounds.  All ages are welcome, parking and admission are free!
For a full list of the musical performances, cooking demos, participating restaurants/businesses and sponsors, visit the South Lake Business's Association website: www.southlakeavenue.org/events/calendar/2012/10/13/
Visit Barrister's link on their website at: www.southlakeavenue.org/business-directory-member/barrister-executive-suites-inc/
Or for more details on Barrister Executive Suites, Inc. in Pasadena please visit: www.barrister-suites.com/Pasadena.php?id=