Barrister Wins Best Executive Suite in Santa Clarita Valley for Fifth Consecutive Year
Barrister Executive Suites, Inc. wins "Best of" award in Santa Clarita Valley for fifth consecutive year. The nomination comes from The Santa Clarita Valley Signal newspaper. Readers and community members weighed in and voted to select the best company in various categories. Barrister's Santa Clarita Valley office is located at 27240 Turnberry Lane in Valencia.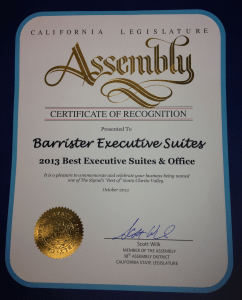 "We're honored The Santa Clarita Valley Signal's readers and community members voted us the number one executive suite provider in the area," says Suite Manager Barbi Davis. Davis continues, "The cornerstone of our offering is our team. We take great pride in the service we deliver to our clients. Our commitment is to provide our clients with a superior facility, technology platform and a forum to network with other clients to increase business opportunities. We work hard every day to ensure we fulfill this promise."
Barbi Davis has worked at Barrister for 20 years and also been a long time Valencia resident. Davis was a nominee in 2012 for the "Special Achievement Award" from the SCV Chamber of Commerce and has served eight years on the Ambassador Committee with the Chamber and previously served on the Economic Development Committee for the City. Barbi is regularly seen at networking events throughout Valencia.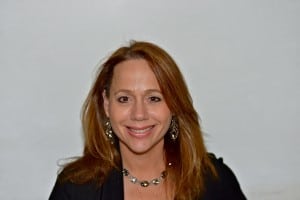 Carrie Gates, Vice President of Sales and Marketing at Barrister states, "The congratulations and credit go to our team in Valencia. Having the right people is key to the success of any business, and Barbi, Wendy, Melanie and the rest of our team truly go above and beyond, not only for Barrister but also for our clients. They're deeply committed to the success of our clients' business and the overall community. It's great to see them recognized with this award. We're very proud of our team!"
Barrister's Santa Clarita Valley location is known in the community for providing superior office solutions that make business sense. Barrister's Valencia location has had an active role in the community for nearly nine years. Businesses that operate out of Barrister enjoy turnkey office space that is customized to fit any business model and needs.
All of Barrister's 26 locations provide small to medium-sized businesses a wide rage of workspace solutions, including full-service offices, virtual offices and meeting rooms, as well as reception services and on-site management. Barrister clients enjoy 24/7 suite access, furnished or unfurnished offices, VoIP telephone system, enterprise grade high speed Internet and WiFi, a networked color copy center and break room with free coffee and beverage service.
Full time space starts at $500 per month. Virtual offices are available for $99 per month. For more information on executive suite solutions, please visit http://www.barrister-suites.com.
About Barrister Executive Suites, Inc.
The originator of the executive suite concept, Barrister was founded in 1966 as a cost-effective alternative to traditional office space by providing turnkey office space, virtual offices, meeting room facilities, and administrative support services. Independent business practitioners, small start-up companies, and national corporations benefit by having more time to focus on their core business with less financial risk. Today, with 26 locations throughout Southern California, Barrister operates with a foundation of longevity and financial stability in providing its tenants with a business-friendly environment coupled with exceptional customer service. Additional information on Barrister Executive Suites, Inc. is available at http://www.barrister-suites.com.
New inquiries should be submitted to:
Bonnie Ogilvie, leasing@barrister-suites.com
Phone: 310-258-8000
Location Contact: (to schedule viewings, follow up, etc.)
Barbi Davis, Area Manager
Email: bdavis@barrister-suites.com
Phone: 661-362-0700