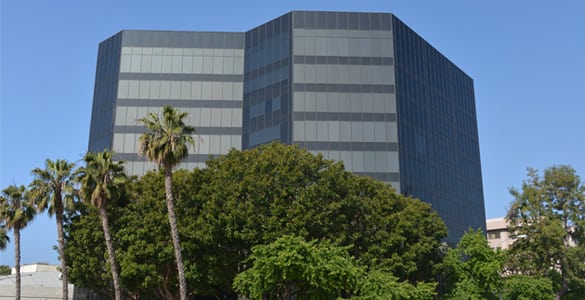 SANTA MONICA, CA – Barrister Executive Suites, Inc. recently announced its plans to expand within Santa Monica's SeaRise Office Tower located at 233 Wilshire. Barrister has taken 7,641 square feet on the 4th Floor as an additional Barrister suite.  The Class A office building is owned by Equity Office, one of the largest office building owners in the country.
Barrister was represented by Ron Burkhardt, Managing Director out of the West Los Angeles office of Newmark Grubb Knight Frank.
Commenting on Barrister's new expansion, Carrie Gates, Vice President of Leasing and Marketing at Barrister states, "We were so glad that Ron brought us the location, it is the perfect fit for our unique needs. Barrister is very enthusiastic about remaining in 233 Wilshire, this Class A building allows Barrister to offer a selection of offices and price points in Santa Monica."
Barrister Executive Suites will occupy a portion of the 4th Floor, which features magnificent 360° full height window views of the Pacific Ocean and the Westside of Los Angeles.  Onsite amenities provided by the building include 24/7 manned security and valet parking.
This new lease opportunity will be available September 1, 2015.  Barrister is actively preleasing Full Time Offices now.  Barrister is also offering a full range of Virtual Office Packages, which are a full-identity office service for professionals that are constantly out of the office travelling, or for those who work from a home office.  Our Southern California Virtual Offices starting at $99 are a cost saving way to give your office a professional image without risking how your company is perceived by clients or potential clients.  The packages offer services such as mail handling, conference room privileges, and personalized telephone answering that is linked to a tenant's cell phone.
About Barrister Executive Suites, Inc.
The originator of the executive suite concept, Barrister was founded in 1966 as a cost-effective alternative to traditional office space by providing turnkey office space, virtual offices, meeting room facilities, and administrative support services. Independent business practitioners, small start-up companies, and national corporations benefit by having more time to focus on their core business with less financial risk. Today, with 26 locations throughout Southern California, Barrister operates with a foundation of longevity and financial stability in providing its tenants with a business-friendly environment coupled with exceptional customer service. Additional information on Barrister Executive Suites, Inc. is available at http://www.barrister-suites.com.
To schedule a tour and to learn more about our Santa Monica Office Space for Rent at 233 Wilshire Blvd., please call Barrister Executive Suites, Inc. at 1-800-576-0744 or email: leasing@barrister-suites.com