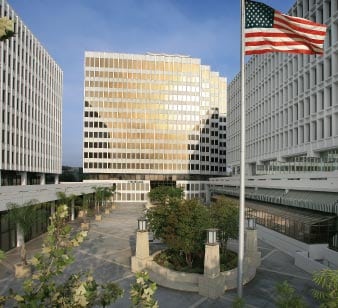 225 South Lake Ave., 3rd Floor, Pasadena, CA 91101  
At home in the heart of Pasadena's South Lake Avenue Business District, with close proximity to area cultural attractions like the Rose Bowl, Pasadena Tournament of Roses Parade, and Historic Old Town Pasadena.
Our Barrister Executive Suite location in Pasadena offers 24/7 suite access and 24-hour security. On-site amenities include a gym, restaurants, and auto detailing, banking, shoe repair, and an off-site dry cleaning service with pickup and delivery.
The suite features views of the San Gabriel Mountains, Mt. Wilson, and Mt. Baldy.
Conference rooms are available on demand, including a training room with a square table. Like all of our suites, a professional receptionist is available to direct guests to your office, as well as to answer phone calls and handle basic administrative tasks.
Click here to receive more information, or enter your phone number below and we'll call you!
Work With Barrister!
800-576-0744
Contact Us
Barrister maintains a 17,431-square-foot shared office facility in Pasadena that companies can rent on an as-needed basis, which Barrister provides as a customized package to meet each client's needs. The concept offers a cost effective alternative to conventional office space.
Virtual offices are set up for businesses that need a presence within a market and access to a professional environment. It could be people who have a home-based business, or maybe a company that needs a satellite office. It can also be a great source of affordable professional office space for freelancers, entrepreneurs, and start-up companies.
The $300-a-month platinum package, for example, includes a receptionist and personalized telephone answering, access to a fully furnished private office for 4 hours each month and 16 hours a month of conference room use.
The package also includes a prestigious address on business cards and letterhead, access to office equipment and a lobby listing in the building's directory (not available at all locations), among other features.
Customers can also rent meeting rooms by the hour or day. These flexible lease times are a wonderful benefit of the concept, and if you want to go ahead and take permanent office space, you can do so easily.
Barrister's cost comparison chart shows that the cost of leasing a conventional office of 1,500 square feet runs about $4,500 a month compared to Barrister's 375-square-foot private, executive suite at $2,500 a month.
Other monthly cost savings include furniture ($250), employee benefits ($750), and Administrative Assistant salary ($2,500). All told, the costs for the conventional space would total $9,000 a month, while the Barrister space would run just $2,825.
(portions of this page were taken from a 2010 article about Barrister Suites and Virtual Offices, which you can read in its entirety here:
https://barrister-suites.com/2010/06/leaner-operation-barrister-offers-office-space-on-as-needed-basis
)