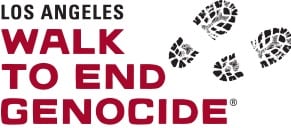 On April 17th, Team Barrister – led by Savannah Patronete – will be taking part in the Los Angeles Walk to End Genocide.   The Los Angeles Walk to End Genocide, a Jewish World Watch project, is the largest anti-genocide demonstration in the world. Thousands of dedicated activists come together to:
Help provide a safe learning facility for refugee children
Help reintegrate former child soldiers into society
Help women who are survivors of violence rebuild their lives
We invite you to join Savannah and the Barrister team for this great cause by either walking with us or donating. The JWW is a leading organization against genocide and mass atrocities whose mission is to educate and mobilize individuals, advocate for policy changes and fund projects. Founded in 2004, JWW has raised more than $17 million, serving 500,000 survivors.
Please contact Savannah if you're interested in more information! spatronete@barrister-suites.com or call 818-710-3800