The Exposition Metro Line Construction Authority is an independent transportation planning, design and construction agency created by the California state legislation in 2003. The Authority was created for the purpose of constructing a 15.2 mile, $2.5 billion Exposition Light Rail Line from Downtown Los Angeles to Santa Monica. Phase 1 of the Expo line (from downtown Los Angeles to Culver City) began in 2006.  That phase of the line opened to the public in 2012.
Phase 2 of the Expo line will start on May 20th.  This phase will be a 6.6-mile, $1.5 billion light rail extension that connects downtown L.A. to downtown Santa Monica.  It will include seven new stations beyond the current terminal at Culver City (Palms, Westwood/Rancho Park, Expo/Sepulveda, Expo/Bundy, 17th St/Santa Monica, and Downtown Santa Monica).  Trains will run every 12 minutes for most of the day and it will be a "Subway to the Sea."
This Phase 2 line marks the first time there's been a passenger train running through Santa Monica in over 60 years. The last trains were Pacific Electric Red Cars and they ran on a traditional rail line that was once traveled by steam engines.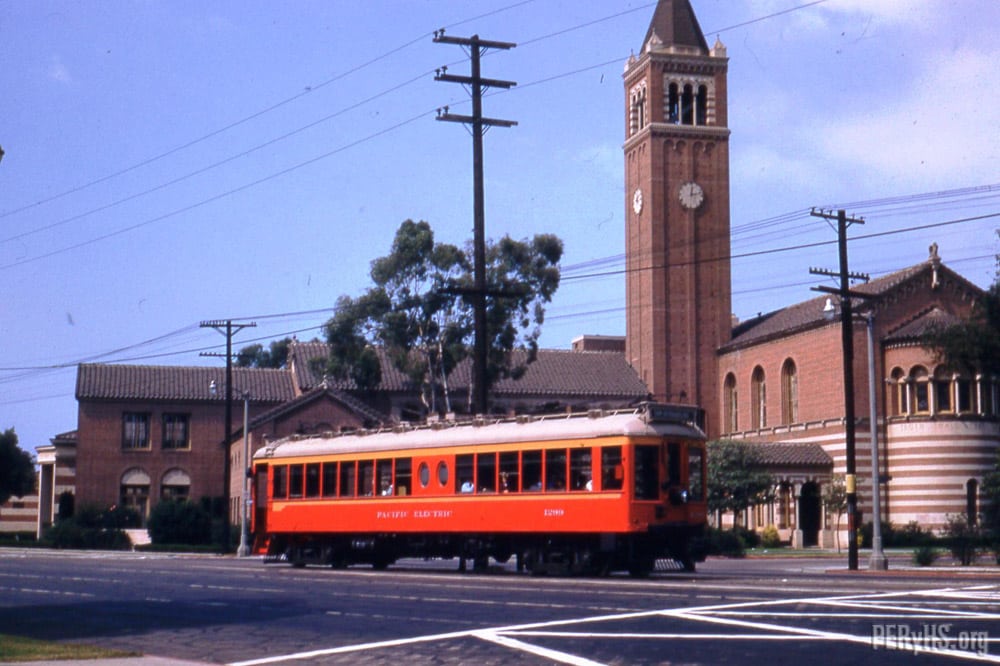 Because of these origins with a railway, the Pacific Electric Red Cars path had trolley cars that typically did not need to utilize and share city roads (old photos of the Red Cars show them passing through fields and behind houses). Red Cars also made few stops and passed through less congested parts of town. As a result of these factors, the trip was short and quick between Downtown and Santa Monica.
The 15-mile Expo line trip from Santa Monica to downtown Los Angeles will also be quite fast (only 46 minutes).  Metro officials state how this is a competitive alternative to rush-hour traffic on the 10 Freeway. The 10 Freeway stretching from downtown L.A. to Santa Monica often takes 2 hours by automobile, and was even recently named one of the 10 most congested roadways in the world!
Officials have stated that Phase 1 of the line sees about 30,000 boardings on an average weekday.  The full Expo Line is projected to handle about 64,000 boardings by 2030.  But the question remains:  Will motorists jump aboard the Expo line?
Santa Monica City Manager, Rick Cole, is already attempting to address some the resistance people have about the Expo line.  According to one LA Times article, Cole says he "suspects that a good portion of people's resistance to public transit is psychological — and that some of that is embarrassment about not understanding how to use it — Santa Monica is planning back-to-basics public education on things like how to use a TAP card and how much the bus costs."
Cole goes on to say how the familiar cliché of "you build it and they'll come" is not in play here.  Rather "to get people to use the Expo Line and other forms of transportation, the experience will have to be appealing and convenient," says Cole.  "And ensure that travelers feel safe."
The Expo Line Phase 2 Opening Day will include celebrations and even some discounts for those people who are interested in experiencing the Expo Line. Train and bus rides will be free and the Big Blue Bus system will be offering a 2-for-1 special: Buy a May bus pass and get June for free.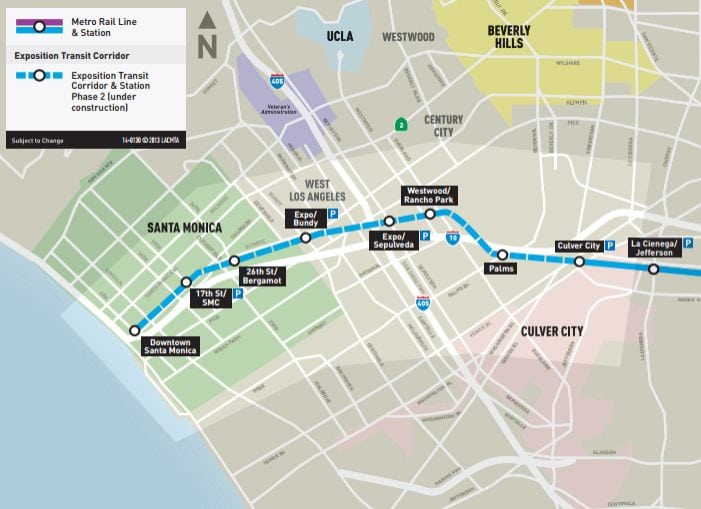 Source: Curbed Los Angeles