Finding a workspace that you love and look forward to working in everyday can be difficult. When you work toward your MBA, the topic of "inspiring office space" is seldom brought up, let alone how much a great office space can cut into your bottom line. Often, business owners find themselves working in a space that is dull and just gets the job done at a price that can be unreasonable in sought-after zip codes.
The Problem with Traditional Leases
When signing a lease with a landlord, businesses often enter into a period of negotiation to get the services and price they desire, and typically end up with less than they anticipated. Finding the right office can be a significant barrier an entrepreneur faces as they grow their company. That's why many today opt for shared offices and coworking spaces, or even a virtual office instead. Barrister Executive Suites was one of the first to recognize this need and ended up revolutionizing office space in Southern California in the process.
Shared Offices, Coworking and Virtual Offices
After forty years learning what tenants like and dislike about their office space, Barrister perfected the Executive Suite concept. The tenant community that is fostered in the shared office locations is the cherry on top of a service offering that covers all of a business's needs.
With accessibility 24 hours a day, 7 days a week, tenants have flexibility. The buildings are staffed by our dedicated team to support each location. Personalized telephone answering, mail sorting, and professional reception services are some of the reasons tenants stay year after year. To provide even more options for business owners, Barrister began providing virtual offices as well.
Real Stories
Hear first-hand from one of Barrister's long-time tenants, Gerald L. Fogelman, who has been leasing at one of our Encino, CA executive office locations for almost 40 years.
"I would recommend Barrister's without hesitation," Mr. Fogelman remarked, "as they provide so many services and things that I don't have time to deal with. My years at Barrister have always been great and the friends I have made there, I still have today."
Along with the exceptional service that Mr. Fogelman has received, he described Barrister's staff as "excellent", as they constantly make him feel a part of the family.
"I will appreciate all the support I received over the years from Barrister's, even when I retire." Said Mr. Fogelman, "I have colleagues who have changed law offices numerous times in their career. I chose the stability of Barristers to service my practice needs, and have never even considered moving out. Even when I retire, I would still maintain my relationship with Barristers as a virtual office, which it has an excellent package for."
While some companies shutter at the idea of sharing anonymous reviews left online, the reviews we've received on Yelp over the years make us proud to do what we do.
Marina del Rey, CA Location
Bonnie T.
5-star rating 9/28/2017
"I have been renting office space from Barrister Executive Suites in Marina del Rey for over a year, and it has been such a joyous experience for me, that I wanted to share it.
"The minute I walked into the luxurious, modern reception area, clad in white, leather sofas and Barcelona-like chairs, I knew this was where I wanted to work. The glistening water in the Marina, as seen through the adjoining conference room windows, seemed to welcome me, as did the smiling faces of the staff at the front desk.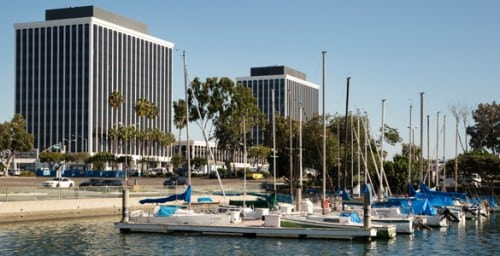 "As the very amiable and knowledgeable Senior Suite Manager, Sarah Clemens showed me around, I took in the beautiful, and very clean environment with wonderful paintings of the ocean lining the hallways, and it all felt so airy and light. Everyone who passed us said hello. The whole place seemed to emanate a very relaxed, yet upscale and friendly vibe. I was in.
"The rent charged for my office was quite reasonable, especially considering the amenities which it included, that make my work life so much easier; the reception area is staffed by the amazing Assistant Suite Manager, Tiffany Phillips and Christian [Larranga]. They are always so pleasant and efficient, it makes the work environment a pleasure to be in."
Read the full review here.
Making the switch to one of our shared office spaces has proven to be the right decision for both large and small businesses we've worked with over the years. Maintaining a sophisticated space with exemplary staff is paramount to each member of the Barrister family. If you would like to learn more about a full-time office, virtual offices, or meeting rooms by the hour, contact Barrister for more information.