Today's business environment is becoming more demanding now than ever on professionals, leaving less time to take a moment and re-center yourself. If you've ever worked in an office with endless rows of gray cubicles and an uninspiring break room, you probably weren't excited to get to the office each day. Your environment has a profound effect on your mood, mindset and productivity. What is your office missing that could help unlock your potential?
1. On-Site Gym
Working out elevates your energy levels and releases endorphins. This is exactly what you need to get pumped for a great workday, or to release frustration before heading home. Our Torrance office has an on-site gym for tenants to enjoy, and our Mission Valley & Del Mar Office have conveniently located fitness facilities as well.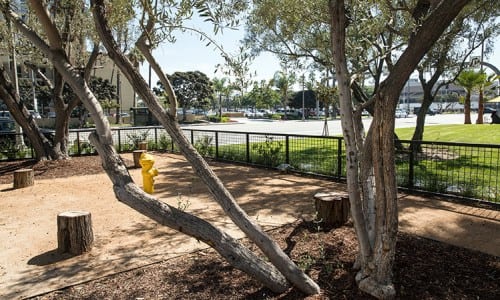 2. Dog Park
A growing number of workplaces are allowing therapy dogs in the office. An office dog can help reduce stress and improve morale. Having a dog park at the office, just as we have at our Los Angeles Airport office suites, is a huge perk for both you and your furry friend.
3. Proximity to Top Restaurants
In today's business climate, a good percentage of meetings and deals happen outside of the office, making it a must to have nearby restaurants where these meetings can take place. Not to mention, grabbing a delicious lunch can be just what you need if you hit that mid-day slump. Here are a few of our favorite lunch spots near our Executive Suites.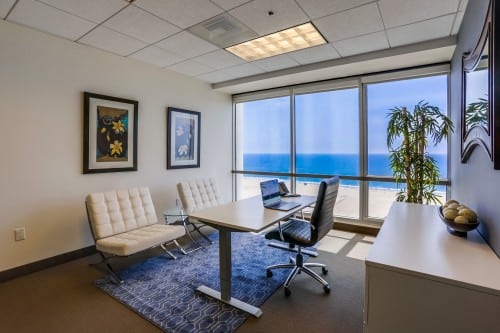 4. Relaxing Views
One of the most sought-after features when looking for the perfect office space in Southern California is the view. The sunset and expansive views from some of our locations are spectacular, making a hard day of work all worth it in the end. Love an ocean view? Check out our Santa Monica offices.
5. Convenience
Whether you are seeking a lifelong office space to call home or just need a space for a few hours, Barrister Executive Suites has it. Our offices come furnished or unfurnished and staffed with professional reception services and telephone answering, allowing your day to run smoothly. Most locations are located conveniently next to the freeways for easy access to and from airports. The offices are also equipped with state-of-the-art technology to meet all your business needs. In the spaces, you will also find common areas as well as an updated kitchen/break room. As a Barrister tenant, you will have 24/7 access to the space and access to conference rooms.
Allowing our tenants to enjoy the flexibility and convenience of both on and off-site amenities is why Barrister has been dazzling tenants for decades. We set the bar for exceptional customer service and take pride in each of our Southern California office spaces.
Have any questions?
Work With Barrister!
800-576-0744
Contact Us